Other Carpet Repairs and Deep Carpet Cleaning
We are happy to announce that we have teamed up with local experts and we now offer an even wider variety of services to help our upstate clients experiencing a variety of different issues, like deep carpet cleaning problems. Does your carpet need any of the following? :
Color damage Spot dyeing and stain removal repairs
Deep carpet cleaning and stain removal treatments
Stretching/ Power stretching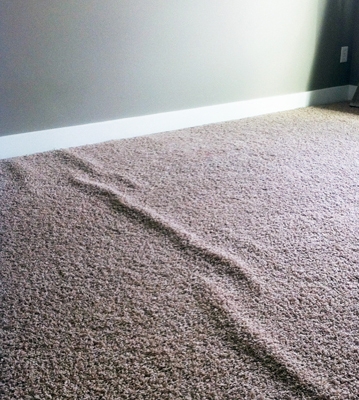 Whether they are called wrinkles, buckles, waves, humps, ripples, bumps or creases they are usually caused by a carpet installation that was not tight enough. If the carpet was not installed with a power stretcher by an expert there is a very good chance that in a matter of months it will have those unsightly and possibly dangerous buckles in the carpet.
With over 10 years of quality work in the upstate and with thousands of rooms successfully re-stretched and an exemplary no complaint track record we are experts at pulling buckles out of the carpet and getting it flat again. We also are certified by the IICRC. We offer the longest warranty on our work we have ever heard of with a five-year comprehensive warranty. We can give you a ballpark estimate over the phone, text or email, and all work is preceded by a walkthrough and exact "no surprise" quote prior to repairs. We are sure that you will be happy!
What you should know
The carpet industry has rules for how carpet is to be installed (the CRI – Carpet and Rug Institute 104 and 105 Carpet Installation Standards).
Sadly it is extremely difficult to find reputable companies that will do the job following these rules. Many if not most carpet installers do not follow the regulations of the industry and unfortunately the consumer is the one that suffers.
The normal industry standard for reputable companies is a one year warranty. A running joke in the industry is that with less reputable installers customers actually get a "tail light" warranty that expires once the installation van drives off.
Bonded Inserts / Patching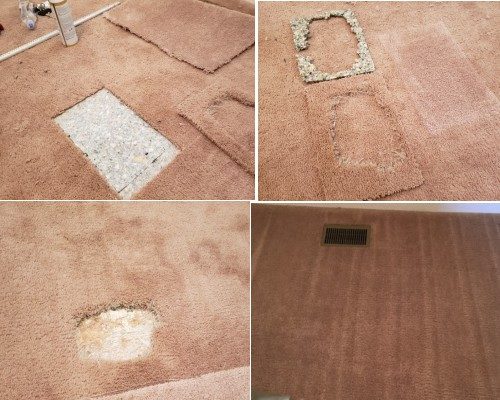 We are experts at stain removal and color repairs, but sometimes a puppy will dig his way out of his crate or an iron will accidentally get forgotten about on the floor. Even still some stains are permanent and there are a large number of things that can destroy someone's carpet. Fortunately, we are certified experts at installing Bonded carpet inserts – more commonly known as "carpet patches"
Color Repairs Spot Dye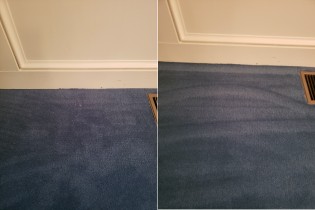 Many stains can be removed from someone's carpet with the right cleaning agents and tools. This is something that requires a great deal of training and experience as it is very easy to damage the carpet using any treatment strong enough to actually remove these difficult stains, so when we find a stain like these we will try all safe methods first and if it will not come out easily we will ask you the homeowner if you would like us to proceed with stronger options. Some of these include dye work spot dyeing bleached out areas, also using specialized cleaning agents and tools to remove food and drink or commonly called "Koolaid" stains.
Pet damage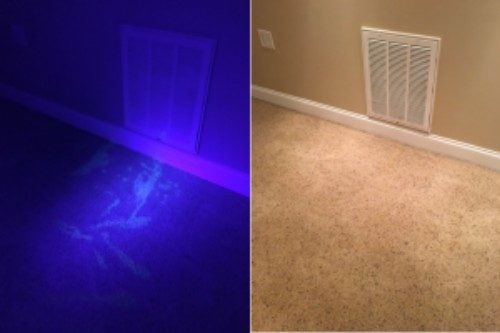 Whether its pet shredding at doorways or thresholds or a pet odor from "accidents" in the house we have focused on using all of our skills to help pet parents out of tricky situations for many years.
We have a variety of specialized treatments and tools to find pet urine and eliminate odors – here are a couple of photos showing our UV
lighting that allows us to find and treat individual pet stains that the
eye can't see unaided.
Deep cleaning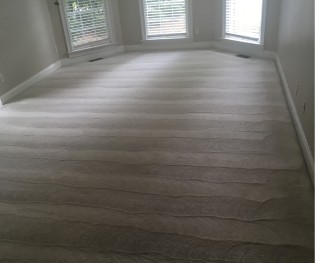 When a carpet is on the fence between needing to be replaced or cleaned, many times it can be saved by a technician with the right skillset and tools. We are passionate about helping our clients keep significant amounts of money by saving and getting years longer out of their carpet instead of replacing it. It can really be a lot of help. A medium-sized home can easily cost over 10,000 to replace
Especially if the carpet is not old we hope you will call us for a FREE estimate to see if we can save your carpet. Our carpet restorations and deep cleanings are not what people think of when they think of carpet cleaning, we use an entirely different approach, typical deep cleaning takes at least 30 minutes to an hour per room and uses state of the art approaches to save your carpet.